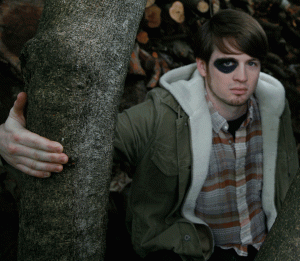 Preshish Moments (Michael Carter) makes music, builds electronics and creates max/msp patches. He plays live electronics with Tyondai Braxton, is in The Adorables with Zeena Parkins and Shayna Dunkelman, performs his own solo work, releases solo albums on Mochipet's label Daly City Records, and has had his music performed by the chamber ensemble Alarm Will Sound. He has created max/msp patches for Yuka C. Honda, Dan Deacon, David Virelles and many others. He has performed with the London Sinfonietta, the BBC Symphony Orchestra, and the Los Angeles Philharmonic.
All of the music that he writes and the max patches that he builds are focused on the live performance of electronic music because despite the prevalence of electronics in composition there is still great deal of progress to be made when it comes to live performance. This progress cannot be made by a single innovation so we must make thousands of small refinements where the rubber meets the road, in live performances for disparate audiences.
Preshish was born and raised in Downey, CA by two public school teachers. He played clarinet as a child, but hip-hop and jungle were his first musical loves. He attended the Los Angeles County High School for the Arts where he began painting and this took him to the School of the Art Institute of Chicago, but he quickly immersed himself in the sound department rather than painting. This was where he learned to program, build electronics, and became familiar with experimental electronic music and art.
He attended Mills College after graduating from the Art Institute where he worked to refine and channel his early work into performances around the San Francisco bay area. He was awarded a small grant to design and build his own midi controller to work with a max patch that he wrote and continues to tweak to this day. He used this controller to win a laptop music competition and was awarded with an album release by Daly City Records.
His first solo album "Let's be Friends" was a chopped up mish mash of breakcore, hip-hop and experimental electronica. He spent the next few years playing sets that ranged from ambient soundscapes to four on the floor house. He organized a 24-hour drone on a radio station, built a few max patches for fellow musicians and performed at wide variety of venues for an even wider variety of audiences.
Late in 2010 he moved to Brooklyn where he began playing in groups and became a max programmer for hire. In his short time on the east coast he has collaborated with an epic cast of artists as a composer, performer and programmer. He performed at Lincoln Center, the Barbican, the Southbank Centre, the Walt Disney Concert Hall, the Walker Arts Center, the Festival International de Musique Actuelle Victoriaville, Dance Theater Workshop and several other high profile venues and festivals. He is currently working on 2 albums and writing several max patches for upcoming projects.