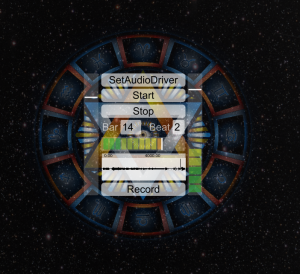 Zodiac Attack for the Deviant Septet
I made this patch to go along with music I wrote for the Deviant Septet. The piece was performed along with 11 others that were all based on Karlheinz Stockhausen's Tierkreis. Each composer was told to write a piece related to a particular astrological sign and it's corresponding Stockhausen piece, I chose my sign, scorpio.
The piece I wrote has each of the six players (not percussion) performing an ostinato most of the time, but each player gets a single solo from the Stockhausen piece that they play into a microphone. The microphone feeds the max patch that records each solo and plays them to the audience while performing a series of simple semi-random processes such as gating, looping, reverb, lo-fi, and chopping. As the material adds up, the processes become more aggressive and distorted building up to a cacophonous roar that ends ubruptly.
The percussionist listens to a click track and plays bass drum and glock throughout the majority of the piece to give the players and the audience a sense of the underlying tempos and pitches.